Hi I'm Destiny, but my furriends call me Desi. I am a two year old, female Siamese cat. I was born May 1,1999. Welcome to my page! It is all about me of course, and my new baby sisfur, Skye! Guess what? I have a wink-wink and his name is Kobi!!!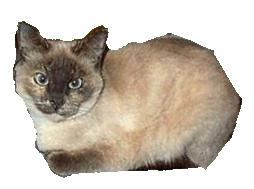 Meowy! I am Skye... I am a 1 year old female Siamese/Calico mix. I was born July 15th 2000. Well TTFN, Purrsies!







Please, Please, Please!


Vote fur Us!

Emeow me!




Sign Guestbook View Guestbook


This page was made on March 27, 2001.




© 2001 Destiny